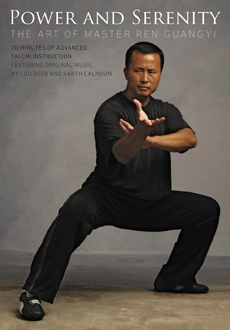 MASTER REN GUANGYI (Kung Fu Magazine's 2011 Hall of Fame "Instructor of the Year") is one of the foremost practitioners of traditional Tai Chi Chuan. On this DVD, Master Ren provides special instruction and demonstrations of both Silk Reeling and the 19 Form.
The 19 Form and Silk Reeling exercises were created by Master Chen XiaoWang -- Master Ren GuangYi's teacher, at the request of the Chinese government in order to make Chen Tai Chi available to the modern practitioner. Both practices are shorter and require less time and space than before. Both practices contain elements from more advanced systems so they remain challenging. For the contemporary student with constraints of space and time these are perfect solutions. This is the original Tai Chi constantly evolving through it's lifeblood to reach and teach you internal power — the meditation of physical movement.
POWER AND SERENITY features six new tracks of original music composed and performed by Lou Reed and Sarth Calhoun:
"
The Power of Red
", "
Cymbalism
", "
Power and Serenity
", "
Liquid
", "
Metallic Opera
", and "
Guitar Mountain
"
*** READ: HOW YOGA CAN WRECK YOUR BODY ***
"POWER AND SERENITY" FEATURING MASTER REN GUANGYI ORIGINAL MUSIC COMPOSED AND PERFORMED BY LOU REED AND SARTH CALHOUN PRODUCED BY LOU REED, MASTER REN GUANGYI SARTH CALHOUN AND SCOTT RICHMAN EDITED BY MATT BOCKELMAN DIRECTED BY SCOTT RICHMAN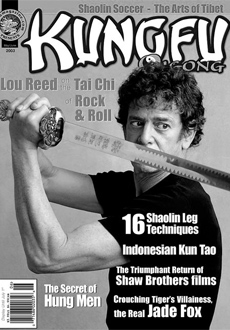 LOU REED is an American Master, a playwright, a poet, and a photographer whose photos have been exhibited worldwide. His third photography book, Romanticism, was released in 2009. He is the recipient of the Chevalier Commander of Arts and Letters from the French government and numerous other awards. He was inducted into the Rock and Roll Hall of Fame in 1996 and is a founding member of the legendary Velvet Underground.
In December of 2006 Lou Reed premiered the live staging of his masterwork Berlin at St. Ann's Warehouse in New York. The performance was filmed by Academy Award nominated director and artist Julian Schnabel.
Reed released his first suite of electronic mediation music, Hudson River Wind Meditations, on the Sounds True label in 2007. In late 2008 Reed released a new album of live electronic music called Lou Reed's Metal Machine Trio: The Creation of The Universe, which inspired two extremely well received performances by the MM3 Trio in New York in April of 2009. The CD is available for sale through his website
www.loureed.com/metalmachinetrio
Reed collaborated with artist Lorenzo Mattioti, who created a graphic novel based on Lou's album, The Raven. He is also completing a book of essays on Chen Tai Chi called The Art Of The Straight Line. Lou Reed co-hosts a weekly radio show on Sirius XM Satellite Radio with friend and distinguished producer Hal Willner called 
"The New York Shuffle"
.
Reed has acted in and composed music for films and currently lives in the city of his heart, New York.
As a senior student of Chen Xiao-Wang, Ren Guang-Yi teaches and promotes the classical Chen family forms as taught by Chen Xiao-Wang. The forms include the 19 and 38 Movement Short Forms created by Chen Xiao-Wang; Lao Jia Yi Lu and Er Lu; Xin Jia Yi Lu and Er Lu; Tui Shou; and the variety of weapons forms including the straight sword, broad sword, spear, and guan dao.
The style of Taijiquan taught is of course that of the Chen family, particularly as taught by Ren's teacher, Chen Xiao-Wang. Chen Style Taijiquan is noted for its fluid, coiling movements, punctuated with quick bursts of energy. This is the original style of Taijiquan, from which all the other styles, like Yang and Wu, ultimately derive. Taijiquan is a Chinese internal martial art system dating back to about 400 years, founded by a former Ming general, Chen Wang-Ting. As exercise, Taijiquan promotes health and relaxation through a series of continuous, flowing movements while providing powerful tools for self defense. Chen Xiao-Wang, Ren Guang-Yi's teacher, is a direct descendant of Chen Wang-Ting, and the 19th generation leader of the family style.
Sarth Calhoun is an electronic musician from Brooklyn, NY.
He is a member of Lucibel Crater along with Leah Coloff and Paul Chuffo. He is also a member of Lou Reed's Metal Machine Trio, along with Lou Reed and Ulrich Krieger. He was previously a member of Number19.
He plays continuum fingerboard and beta tests for the Symbolic Sound Kyma workstation. He refers to himself as an "electronic alchemist" using audio equipment to perform live looping and processing of other instruments during performances.
Power and Serenity is directed and co-produced by Scott Richman. Richman is an Emmy, AFI and NAACP Image Award winning producer and media executive in NYC. Richman is the Senior Vice President and General Manager of MSG Interactive, where he manages all online, mobile, VOD and iTV products for the Sports, Media and Entertainment brands.
Scott is also Co-founder and Principal of Freemind Ventures which produced four successful HBO Documentaries from 2007 through 2011 including The Black List Vol. I, !! and III; and The Latino List in 2011.